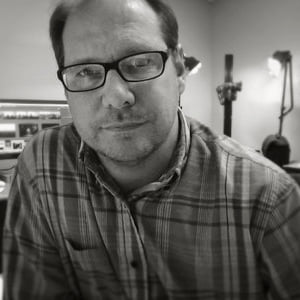 James Gehrt
Biography
— Artist Statement
I capture the time and space around me through black and white images. These images can be rearranged and reconstructed to map the real or imagined memories of my life. I have been carrying a camera with me for 25 years. I shoot the things in life, where I am. The subjects are usually not beautiful on their own, but somehow strike me by the beauty found in their commonality. Not the extraordinary, but the ordinary. Simple, usually quiet subjects that may go unnoticed. Black and white because, I guess that is the way I see. To me, my images feel a bit sad, a bit strange, a bit interesting, and the subjects, somehow unique. I hope you enjoy and thank you for visiting.
—
James Gehrt is a fine art photographer and imaging specialist residing in Western Massachusetts. Gehrt picked up a camera at the age of 16, and quickly built his own darkroom in a small basement bathroom. After receiving his BFA in photography from the Savannah College of Art and Design in 1991, his career began by assisting and printing for commercial and fine art photographers.
After establishing a reputation for excellent print quality and technical proficiency he took a position as the lab manager at the Chicago Albumen Works, in Housatonic Massachusetts. Gehrt worked at CAW for Seven years, where he had the opportunity to work with some of photography's most important creators, including Walker Evans, Carlton Watkins, and Lazlo Maholy Nagy, to name a few. He also worked with collections from the Metropolitan Museum of Art, the National Archives, The Philadelphia Museum of Art, The Museum of the City of New York, and the Met Opera.
In 2007 Gehrt began as the Digitization Coordinator at the Mount Holyoke College Library, and recently became the Digital Project Lead in the department of, Digital Assets and Preservation Services. He has been awarded a 2009 and 2010 NITLE Technology Fellow, concentrating on new digitization technologies. His workshops in digitization best practices have been taught at the New England Archivists annual conference, Simmons College Continuing Education, NITLE, and the METRO Library Group in New York City.
Through it all Gehrt continues to carry a camera with him wherever he goes, building a collection of thousands of images from everyday life that document the objects and locations he visits. Gehrt has produced seven self-published titles over the past eight years. This past summer his book "Source" was acquired by the Smith College, Mortimer Rare Book Room. He has exhibited his work in group and solo shows, and in the Fall of 2016 will produce a multi-media exhibition based on his latest work, entitled "The Weight of Air", at the University of Massachusetts Amherst, Hampden Gallery.
Professional Experience
— Northeast Artist Repository (NEAR), Digital Ltd., Easthampton, Massachusetts Director and Founder (September 2016 - present)
Provide digital access, organization, description and preservation of digital support material, documentation and creative works to a range of artists and artist groups based in the New England states as well as the New York area. Provide a low cost, open source, dependable solution for artists to access their work, maintain their usage rights, and preserve their digital content for future promotion and support.
— Simmons College, Boston, Massachusetts
Adjunct Faculty LIS 471 - Photographic Archives and Visual Information (Fall 2017)
Topics include:
Photographs as visual information. Problems of meaning, context, and definition.
Responsibilities of the photo archivist. History of major types of photographic artifacts and development of photographic genres.
Characteristics of 19th-century processes.
Special problems of subject access and remote access. Utilization by scholars, visual researchers, and communication industries.
Onsite examination of management practices in a variety of institutions.
— Mount Holyoke College, South Hadley, Massachusetts
Digital Projects Lead, DAPS (September 2006-present)
Duties include:
High level oversight of operational aspects of digitization projects, digital collections development, and digital asset management. Hire, manage, lead and support a team of student assistants and graduate student interns. Create, update, and make accessible project planning documents, to insure knowledge transparency across the department. Utilize an agile project management approach to ensure that project progress is tracked and deadlines are met. Support metadata creation and migration, ingest of content to digital repository systems, and digital project consulting and outreach for faculty research and digital scholarship. Implement grant funded collaborative projects into the DAPS workflow.
— Digital asset outreach, awards, and workshops:
Co Curator with Historian, Bob Herbert, for a October 2016 MHC Art Museum Exhibition, "The Recovered History of Prospect Hill"
Workshop presented to the Mount Holyoke College Senior Art Symposium on the topic of best practices of capturing 3D art objects. March 2014.
Workshop presented to the Mount Holyoke College Art Museum staff on the topic of event photography. November 2013.
MHC Archive open house presentation, 2012. "A Medium of Change" A live demonstration and hands on showcase that followed the history of photography through the eyes of the MHC archives.
Simmons Graduate School of Library and Information Science, Continuing Education Workshop, Digitization Best Practices, 2011.
Simmons Graduate School of Library and Information Science, Continuing Education Workshop, Digitization Best Practices, 2010.
New England Archivist, Spring 2010 Annual Meeting. Workshop instruction: Digitization in the Library and Archive: Creation, Management and Preservation of Digital Assets.
Awarded the 2009 NITLE Technology Fellow, Mellon funded project, Decapod. Beta tested usability wireframes for library-based user OCR software.
Awarded the 2009 NITLE Technology Fellow in the area of digitization technologies.
Digitization Strategies, Technologies, and Practices Workshop at the NITLE 2009 Technology Camp, Smith College, Northampton, MA.
Co-taught with Elisa Lanzi, Art Information Management Specialist from Smith College's Imaging Center, a 2009 Digital Asset Practicum for the METRO library organization in New York City.
Presented at the NITLE 2008 D-Space meeting on Digitization best practices, Puget Sound University.
— Guest Lecturer
Mount Holyoke College, The Daguerreotype and beyond. A presentation on photography during the victorian era. Martha Ackman's summer research course, 2015.
Simmons College, The Photographic Archive, Martha Mahard, The Asa Kinney Project, A hands on demonstration of 5x7 view camera techniques and re-photography, 2014
Simmons College, The Photographic Archive, Martha Mahard, Digitization and re-photographic projects, 2013
Simmons College, Digital Libraries, Terry Plumb. Digitization workflow and best practices, 2012
Mount Holyoke College, Urban Geography, Serin Houston, Presentation on "The House of Concrete and Steel" 2012
Mount Holyoke College, History of Photography, Anthony Lee, Presentation on the art of seeing, 2011
Mount Holyoke College, Museum Studies, Presentation on "The Seat of the Muses" 2010
Mount Holyoke College, History of Photography, Anthony Lee, Museum lecture on the photographic print, 2010
— Publication Acknowledgments
Daniel Czitrom, New York Exposed: The Gilded Age Police Scandal that Launched the Progressive Era, 2016 Angela Willey, Undoing Monogamy: The Politics of Science and the Possibilities of Biology, 2016 Christopher Benfey, Red Brick, Black Mountain, White Clay: Reflections on Art, Family, and Survival, 2012 Eugenia Herbert, Flora's Empire: British Gardens in India, 2012 Martha Ackman, Curveball 2010 Elizabeth Young, Remixing the Civil War: Meditations on the Sesquicentennial, 2010 Christopher Pyle "Getting Away with Torture," Potomac Books, 2009 Susan Barry, "Fixing My Gaze," Basic Books, 2009 Holly Hanson, "Mapping Conflict: Hierarchy and the Accountability in the Ancient Capital of Buganda", Journal of African history, 50 (2009) Anthony Lee, "A Shoemakers Story," Princeton University Press, 2008 Elizabeth Young, "Black Frankenstein," New York University Press, 2008 Bonnie Yochelson and Daniel Czitrom, "Rediscovering Jacob Riis," The New Press, 2007 Lynn Marie Morgan, Icons of Life: A Cultural History of Human Embryos, 2006
— The Chicago Albumen Works, Housatonic Massachusetts
Lab Manager, Digital and Conservation Photographic Lab, (1999-2006)
The Chicago Albumen Works is a vintage media printing and archival digital duplication conservation lab. Clients are primarily national and international archives, museums, universities and private collections.
Duties included but not limited to: Workflow management, High resolution scanning and metadata processing, quality control, image management, project tracking, employee training, customer relations, pricing and project bidding. Worked with one of a kind, rare and valuable, glass, nitrate and acetate negatives from the late 19th century to contemporary artists. High-end copy work in black and white and color, all formats of negative duplication and fine archival black and white printing, production job delegation, testing of equipment and process and preventative maintenance. Selected Projects: The Carl Sandburg Collection, Man Ray, The National Archives, The Library of Congress, The Metropolitan Opera, The Metropolitan Museum of Art, The Museum of Modern Art, The LbJ Presidential Library, The Norman Rockwell Museum.
— The Holyoke Street School, Holyoke, Massachusetts
Photographic Instructor, (1997-1999) Traditional and Digital Photography teacher and Student Advisor. Worked with students from diverse social and economic backgrounds Received a 1997 and a 1998, Massachusetts State Arts Council Grant, distributed by the city of Holyoke, for the students to produce and execute a traveling exhibition documenting the lives and landscape of inner city Holyoke, Entitled; Scenes of a City
— James Gehrt Photography, Easthampton, Massachusetts
Book publishing, fine art and commercial photography, (1991-present) Artist publication and portfolio work Event, Academic, and Architectural photography Fine art exhibitions and hand bound book publishing Self published print on demand and eBook titles
— Selected Publications and Exhibitions
The Weight of Air - 2015 Kickstarter funded
UMASS, Fine Arts Center Artist In Residency Grant, 2016
Exhibition at UMASS, FAC, Hampden Gallery, September 2016
Exhibition at Western New England College, April 2017
Source - 2014 Purchased by the Mortimer Rare Book Room, Smith College
Chronology - 2012
Lapse - 2010
— EDUCATION
2010 – 2014 Simmons College GSLIS, South Hadley, Massachusetts
Master of Library and Information Science
2015 Dr. Esstelle Jussim award in Photographic Studies, Simmons College
General concentration with a class emphasis on digital archives, digital preservation, and archives Simmons College Graduate School Symposium, April 2013. Presented on the creation of the eBook and print on demand publishing in the library, archive, and museum. Incorporating campus re-photographic projects.
1988-1991 The Savannah College of Art and Design, Savannah, Georgia BFA Photography Honor: The 1990 Rousakis Overseas Studies Scholarship, France Studied Under: Craig Stevens, Jean Pierre Sudre and Lucien Clergue
Additional Skills and Interests
• Final Cut Pro video editing • Photographic historic processes, equipment, innovators, and artists • Photoshop Creative Suite • Optical Character Recognition Software • HTML layout and design • Social media promotion, marketing and design • Publishing and print-on-demand
Contact